Board of Directors
Chief Executive Officer and Principal

Albert is the founder of Pilgrim Partners Asia. Prior to this, Albert was hired as Head of the Asian Operations for Millennium Management LLC, a global hedge fund manager. In one and a half years, Millennium expanded from a Singapore office of about 10 staff to three Asian offices of Singapore, Hong Kong and Tokyo; with a total staff strength of about 70 people.
Before Millennium, Albert joined Tribeca Global Management Asia in March 2005 to run Tribeca's trading activities in Asia. He was also part of the executive committee of the Tribeca Global Management that managed Tribeca's global multi-strategy fund. As head of Tribeca's Asia office, he was responsible for the management of the risk of the entire global Tribeca portfolio during the Asian hours.
Between 1998 and 2005 Albert was the Deputy Director of the Foreign Exchange Department at the Government of Singapore Investment Corporation (GIC). Albert played a major part in the investment activities of the FX department. In addition to his macro investment portfolio, he oversaw the department's three trading divisions (Developed Market Currencies, Money Market, and the Gold and Commodities Group).
Albert was the Deputy Treasurer for Banque Paribas in Singapore from 1997 to 1998. Between 1995 and 1997, he traded FX options for The Swiss Bank Corporation at the Chicago and London branches. Between 1993 to1995, Albert was the Chief FX Dealer and Deputy Treasurer at Unibank Singapore where he ran the FX team and oversaw themoney markets desk. Between 1990 to 1992, he was the Assistant Treasurer for FX at Swissvolks Bank Singapore.
Albert received an Honours degree in Civil and Structural Engineering from National University of Singapore. He holds an MBA in Banking and Finance from Nanyang Technological University in Singapore. In addition, Albert holds the CFA and the CAIA Charter.

Mr. Teo served as Director in charge of foreign exchange, money market, gold and commodities management in Government of Singapore Investment Corp, Singapore from 1998 to 2007. Prior to this, he was the Director of Nuri Holdings (S) Pte Ltd, Singapore as consultant for risk management in Jakarta and Los Angeles from 1994 to 1998. Mr. Teo worked for JP Morgan for 20 years in various locations at senior management level in Global Markets. Between 1980 to 1993, he was based in Hong Kong, Taipei and New York.
Current appointments:

HL Insurance Pte Ltd - Independent director (Dec 2012)
National Library Board - Independent director (Sep 2009)
The Library Fund - Independent director (Sep 2009)
Guoco Land Ltd - Independent director (Nov 2008)
Sparrow Asset Management Pte. Ltd. - Executive director (Jan 2008)
Sparrow Foundation Limited. - Executive director (Jan 2008)
Dream Acres (S) Pte. Ltd - Independent director (Sep 2007)
Bartley Christian Church Ltd. - Independent director (Jun 2002)


Andrew is an independent Director on the Board of Pilgrim Partners Asia (Pte) Ltd effective 2 October 2017. He is a founding director of AK Management Consultancy Pte Ltd advising private companies in their business structure and regional development. Over the last 36 years in his career, Andrew has worked in senior roles with investment banking and asset management entities. Companies worked for included global names e.g. Deutsche Asset Management (Asia) Limited, BNP Paribas Asset Management and CS First Boston Singapore. He has an MBA from City University Business School, London UK and a BSc from the National University of Singapore. Andrew has also completed a certification program "Effective Board Leadership" with the Singapore Institute of Directors.
Board Risk Committee
Board Risk Committee Chairman
Core Team
Finance & Accounts Manager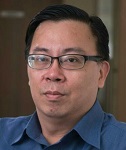 Charles Heng has over 20 years of practical experience in both accounting and compliance matters. Prior to joining Pilgrim Partners Asia in Dec 2017. Charles was working as an Audit and Control Manager in Kreuz Subsea Group Pte Ltd, where he assisted and coordinated the delivery of a new DSV vessel built in Norway via a restructuring of DBS loans. He also assisted to complete the Brunei JV procedure for about 1 year.
Prior to Kreuz Subsea, Charles was the Internal Audit Manager for Tembusu Partners Pte Ltd which managed a total AUM of SGD 400 mil for about 2 years.
After graduating in 1998 from Ngee Ann Polytechnic, Charles worked in various industries in Singapore, External Audit, Marine Industry, Education Industry and Tourism Industry building a vast experience in audit, accounting and statutory compliance. Charles is an associate member of IIA Singapore and is currently attending Advance Certificate in Risk, Governance and Compliance (ICTA).
Operations & Technology Manager
Nicholas has over 7 years of experience in middle office and operations across multiple asset classes including FX and equities.
Over the course of his career he has provided front office trading and technology support, enhanced process efficiencies in operations and technology at Citibank, CPF Board, Government of Singapore Investment Corporation and SingTel.
He received his Bachelor of Science (with Honours) in Business Studies in 2001.
Dawn Tay has over 30 years of experience in Singapore legal and corporate secretarial matters. She was last Chief Legal Officer of the Kuok (Singapore) Limited Group where she was responsible for the legal and corporate secretarial services and support provided to the Group. She also spent 5 years at Singapore Health Services Pte Ltd, one of 2 health clusters which the government created in 2000. There she held the position of Director, Legal Affairs.
Dawn graduated with a LLB Hons (Second Upper) from the National University of Singapore and worked for Arthur Loke & Partners on being called to the Singapore Bar.